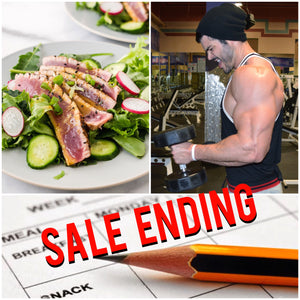 SALE ENDS Friday

Custom meal plan that I adjust as we go, based on your progress and preferences

Workout routines that evolve as you do. Changed every 4 weeks.

Weekly check-ins, progress reports and photos, weigh-ins, coaching

Supplement recommendations all PERSONALLY tried by me

Detailed cardio routine

24/7 support and accountability

Month to Month, Does NOT autopay
When purchasing, you receive 4 weeks of:

Personalized meals (4-6 meals a day for 4 weeks). Each meal plan is catered towards you and the foods you like/dislike. This plan is adjusted based on your progress and goals! Plans are easy to follow and tell you exactly WHAT to eat, WHEN to eat, and HOW MUCH to eat. All macronutrients and calories are calculated for the perfect formula to achieve your goals. Whether your goals are weight loss, lean muscle gains, shredding, or toning/defining, your meal plan will get you there as quickly as possible.

Workout routines (5-6 routines each week with one day of rest). Your routine will directly correlate to your goals and will only include equipment you have available to you. If you have zero equipment, a routine requiring nothing but your body weight will be made. Each routine is detailed and easy to follow but will be unique and unlike any other routine you have ever tried. Exercises, sets, reps, rest time, cardio, and abs are all included in each routine. A completely new routine is provided every 4 weeks to ensure your body doesn't become acclimated to your workout. Gym membership NOT required.

Your progress will be closely monitored and your plan will be adjusted based on it. That is what makes this program so much more effective than a regular, set plan. Through constant communication and "tweaking" of your program, you will reach goals as quickly as possible, guaranteed. Progress is monitored through weekly check-ins, progress reports, progress photos (never shared without your full permission), weigh-ins and more.

I will be your full accountability partner. I am available 24/7, via email, to answer any questions/concerns that come up or if you just need a little motivation! I stay on top of my emails and work diligently to get back to you ASAP.

Supplement recommendations. This is a complete list of supplements that I have PERSONALLY tried and recommend. From proteins to pre-workouts, I list the supplements that have been essential in getting me where I am today!

Questionnaire. After you have paid for the program, a questionnaire will be sent to your email. The questionnaire is important in determining what your ideal diet and workout routine will consist of.

Constant Support: I am available 24/7 for any questions that come up.

All sales are final.